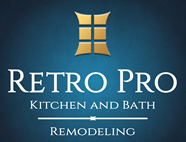 Address: Retro Pro Kitchen and Bath, 2885 N Nevada St, Suite 180, Chandler, AZ 85225

"Your Remodeler for Life"
Our Unique Process
Retro Pro's systems were designed by a Six Sigma black belt consultant to reduce and eliminate the problems associated with most contractors. Below is a list of what you can expect from Retro Pro and why we are the #1 rated Kitchen and Bathroom remodeling company in the valley.
Multi step in office processes ensuring proper ordering, delivery and installation of all Retro Pro products.
Exceptional customer service including daily communication with your project manager, complete protection of all your belongings including masking floors, walls, furniture, etc… and maintaining a clean, orderly and safe work environment.
Retro Pro Advantages
We use only premium travertines and stone materials, no commercial grade products.
All exposed edges of travertine are bullnosed and polished, including combo double niche.
15 year sealer on all travertine and granite.
Factory applied glass protectant plus secondary protective coating applied in the field.
Certified plumber in charge of all plumbing installations.
Drywall specialist to ensure good match on all texturing.
Comprehensive 3 year warranty on all materials and labor.
A Top quality cabinetry and installations with industry leading warranties.
Copyright @2014 retropro.com, Inc All rights reserved. Terms of Use | Site map | Privacy policy