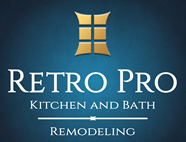 2885 N Nevada St, Suite 180, Chandler, AZ 85225

"Your Remodeler for Life"
Kitchen Remodels
Our Beautiful Kitchen Remodel Designs
When you are ready for a kitchen remodel, remember that a kitchen is more than just a place to eat, it is the heartbeat of the home, a place where relationships are nurtured and memories are built. Retro Pro will create a custom kitchen that is perfectly designed for you and your family's needs. We employ state of the art rendering software so you can see your kitchen remodels before it is built. And we offer a vast selection of products and options to create a unique and beautiful kitchen that fits your lifestyle.
Our Benefits Include:
Complete Kitchen Remodels
Computer Aided Design
In-house Showroom with Cabinets, Countertops, Fixtures and Hardware
Custom Lighting Experts including Recessed, Under Cabinet and Pendant Lighting
A Dedicated Project Manager and Experienced Craftsmen for Every Aspect of the Remodel
Copyright @2014 retropro.com, Inc All rights reserved. Terms of Use | Site map | Privacy policy